Revenue Management App
Peaqplus is a cloud-based Revenue Management App, that provides you and your team Powerful Reports and Intelligent Features.
Pure Experience
We keep the User Interface as simple as we can, so you are able to focus on the essence of your daily work.
Powerful Reports
Peaqplus delivers you customizable and powerful reports, focusing on revenue, forecast, budget.
Intelligent Features
Assist Intelligence features support you to reach better results and prepare upcoming forecasts.
On The Go
Take it with you on your mobile, or tablet and work from anywhere. Peaqplus is in the cloud.
Your daily work is going to be much easier
Dashboard
When you are in a rush, just open up the app, and take a quick performance overview with the customizable Dashboard.
Historical Datas
The history of your reports gives you the possibility to analyze your performance, and helps you to gain more revenue.
TimeMachine
Rewind the time and analyze SamePoint figures from the past in order to compare with your actual performance.
Scheduled Mails
We deliver your favourite reports, when you need it. Save your time and be constantly up-to-date.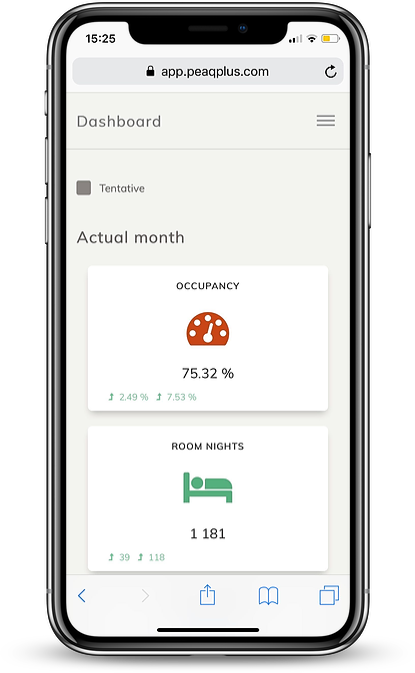 Is this the right app for you?
We believe that beside functionalities, User Experience is the most important. We designed peaqplus to easily assist you through your daily work in any scenario. Even if you are looking for a quick solution, or would like to jump in advanced details.
For Owners & General Managers
Daily email notifications and quick overview reports will keep you up-to-date with your performance.
For Sales & Marketing Managers
Peaqplus guides you forecasting & budgeting revenues, which helps you channel your marketing activities.
For Revenue Managers
You are going to love our hidden report features, historical datas and intelligent rate recommendation.
Your life will be much easier
Powerful Reports
You can start you daily work with what really matters. No need to spend minutes, or hours to produce your favourite reports.
Meet the Budget
Be constantly up-to-date with your performance, whether you are below or above budget, in order to take the right actions.
Easy to Forecast
Save your time and prepare your monthly forecast in peaqplus. Historical and Samepoint figures gives you a helping hand. Deep learning is coming soon.
Rate Intelligence
Peaqplus helps you to define your rates based on your performance, and can update them through your channel manager.